Efficient Cable Management
A well-managed network system not only contributes to solid system uptime but also delivers significant aesthetic appealing. More importantly, efficient network  cable management can lower operation cost & time and increases the versatility and flexibility of network operation and maintenance. The significant benefits, combined with data center's ongoing quest for greater network agility and cabling density, make a comprehensive cable management solution a must.
Efficient Cable Management
Superior network cable management is imperative with today's data center packed to capacity with a mix of equipment. So to attain efficient cable management, you'd better perform the following steps.
Start with proper planning: Decide the number of cabling and connections needed, and where the cables should be routed within the rack. Moreover, we'd better consider planning ahead for installing additional cabinets, servers and network components.
Follow industry standards: Follow industry guidelines such as ANSI/TIA and ISO/IEC, as well as any federal, state or local regulations regarding cabling. A standards-based cabling system will provide the best combination of reliability today and agility in the future.
Choose Cable Management Tools: choose the proper cable management tools required to guarantee all the wiring and connections performing well. It is vital to make sure that enough space is offered to all the cables applied in your system.
Network Cable Management Works Right with Efficient Tool
Data centers  and network closets need to house and support an abundance of power and data cables. And failure to deliver proficient network cable management within a server rack can be devastated. However, choosing the right cabling component can combat the issue of balancing manageability and performance.  Let's see how data center cable management tools help to solve your problem.
FHD and FHU Patch Panel Cable Management Solution
FHU and FHD series are fiber distribution solutions for ultra-high density interconnections in data centers. Including essential components like fiber adapter panels (FAPs), MTP-LC cassettes, fiber enclosures and etc. There is no need for fiber cutting or termination because these data center cable management solutions support simple plug-and-play into your 10G or 40G/100G network applications.
FHU Series
FHU series consists of 1U rack-mountable 19'' fiber optic patch panel and MTP-LC breakout patch panel. 1U rack-mount adapter patch panels are designed to cover open space in racks: available with LC, SC and blank version, FHU adapter patch panel can hold up to 96 fiber, providing a great fit for easy, fast plug & play installation. MTP-LC breakout patch panel highlights LC ports on the front and MTP ports at the rear, serving as an ideal option for 40G-10G and 100G-25G breakout cabling. Which are available with 40G breakout patch panel, 100G breakout patch panel and angled patch panel.

FHD series includes FHD fiber adapter panels, FHD 8F MTP cassettes and FHD fiber enclosure.   FHD fiber adapter panels (FAPs) are pre-terminated with LC/SC/MTP adapters, allowing for up to 96 fiber installation with a simple plug-n-play design.  FHD FAPs are made with the same size as those of Panduit's and can work with Panduit enclosure. FHD 8F MTP cassettes offer a simple solution for 40G/100G to 10G/25G LC cable connections and 100% fiber utilization. FHD fiber enclosure has two flavors: rack mount and wall mount design. The rack mount enclosure features 1U, 2U and 4U design, holding up to 96, 192, 288 fibers respectively. providing high density solution that saves previous space and simplifies patch panel cable management.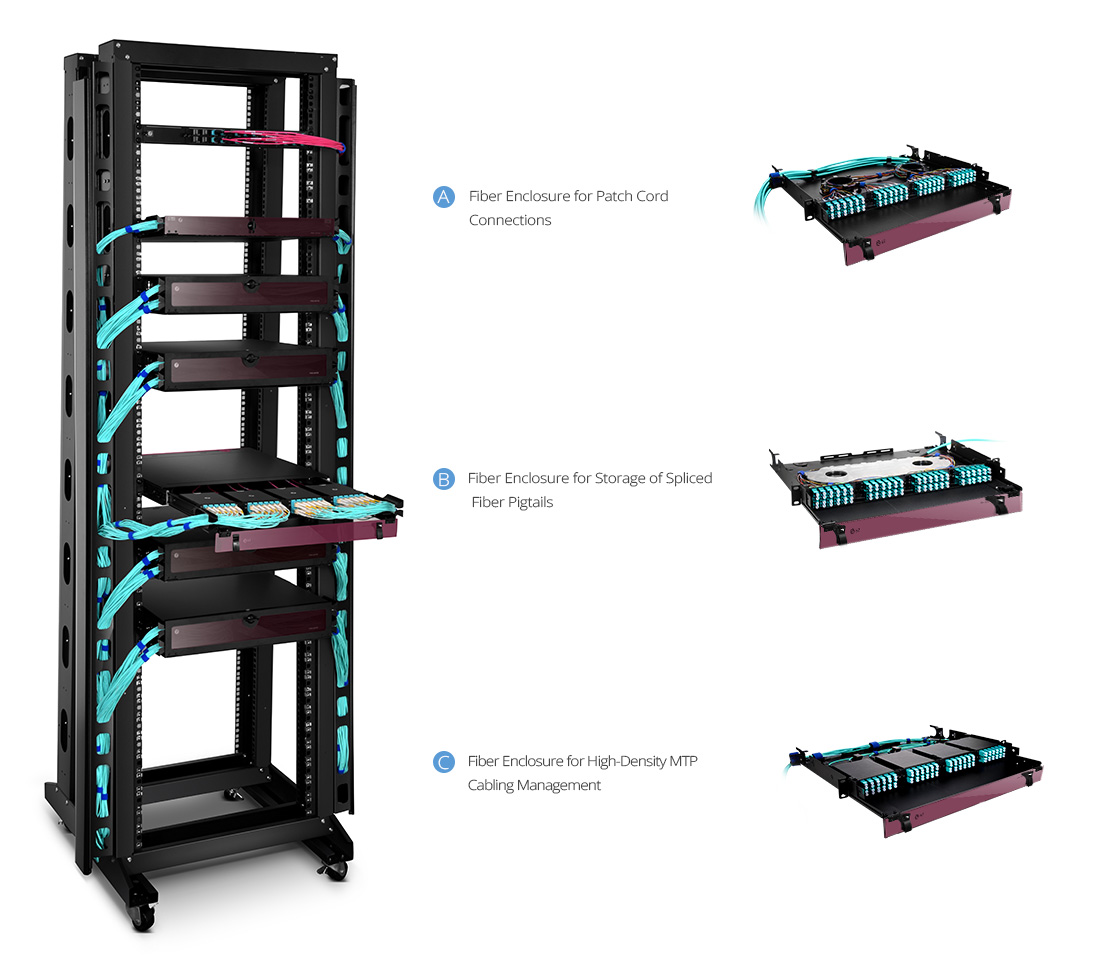 Effective network cable management helps to improve physical appearance, cable traceability, airflow, cooling efficiency and troubleshooting time while eliminates the chance for human error. Meanwhile, power and data cable management within server racks also ensures the health and longevity of your cables.