Industrial Switch
Industrial switches are now playing a more and more important role in various industries such as environmental protection, mining, transportation, and smart city surveillance, etc. It is well known that industrial switches are manufactured specifically for industrial environments, but do you really know what industrial switches are and why they are widely adopted in these scenarios? The following content will answer your questions.
Industrial Switch Overview
When network equipment is deployed in the industrial field, the stability of commercial switches will be greatly challenged in the face of a harsh working environment. Because of this, industrial switches with high reliability, stability, and security have emerged at this time as important transmission tools that can adapt to complex industrial environments and facilitate industrial automation network deployment.
An industrial switch, also known as an industrial Ethernet switch, with a wide product line and flexible port configurations, can meet the needs of a wide range of industrial control applications that require industrial-grade network equipment that can tolerate an extended range of temperature, humidity, vibration, electrical noise, and physical contamination, etc. With the rapid development of power, metallurgy, petrochemicals, environmental protection, transportation, construction, and other industries, the demand for industrial switches is also growing.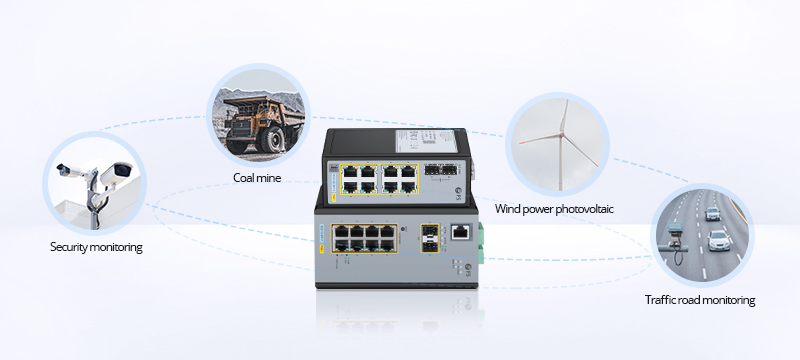 The Advantages of Industrial Ethernet Switches
Adapt to Wide Temperature Environment
An industrial switch is built specifically to withstand wide swings in temperature as well extreme weather conditions including high humidity and exposure to moisture. Therefore, industrial switches have high requirements for component selection, they generally use a pleated metal casing for faster heat dissipation and greater protection, which allows them to work well in the temperature range of -40°C to 85°C and can be well adapted to complex temperatures and humidity.
Super Anti-interference Performance
It is known that high levels of electrical noise can cause interference in network connections. Industrial-grade switches have strong anti-interference performance, and can work in harsh electromagnetic environments. What's more, they also have high protection levels in lightning protection, waterproof, anti-corrosion, anti-shock, anti-static, etc.
Redundant Power Supply Design
The power supply is a very important part of switches. Power failures generally account for more than 35% of equipment failure rates. Industrial switches are designed with dual power supply redundancy in order to avoid the trouble of power failure and to ensure a stable and reliable operation. In addition, industrial switch system design also enables them to offer a variety of hot-swappable media modules (such as RJ45, SFP, PoE) and power units to provide greater flexibility and availability, especially for continuity-critical operations.
Fast Ring Network, Fast Redundancy
Industrial switches have an ability to form fast redundant networks in order to build reliable industrial networks for you with super fast self-healing time less than 50 milliseconds, which means they can provide faster recovery from a failed data pathway. For example, in some industrial scenarios, the cost of production line shutdown can be huge; or if the power plant or transmission monitoring is abnormal, the damage is incalculable. Under these kinds of conditions, industrial switches can help reinforce insurance to avoid these abnormal events.
Long Service Life
Industrial switches use industrial-grade solutions from the shell material to the companion components as downtime costs in industrial environments are often considerable, which means they have higher reliability and a longer service life. Commercial switches may have a life cycle of 3 to 5 years, while industrial Ethernet switches can be kept working for 10 years or more.
Different Types of Industrial Switches
Different industrial network switches have different functions and features, and based on these functions and features, industrial switches can be divided into unmanaged or managed industrial switch, industrial PoE switch or Non-PoE switch, Din-rail switch or rackmount switch, etc. Here explains their differences for you:
Unmanaged / Managed Industrial Switches
A managed industrial switch allows you to manage, configure, and monitor your LAN settings. Also known as a hardened managed Ethernet switch, you can use this network element to establish various controls over your industrial Ethernet LAN traffic. For an unmanaged industrial switch, there's no need to set anything up, you can plug and play immediately with your network.
Industrial PoE / Non-PoE Switches
PoE switch is a networking device with PoE passthrough that has multiple Ethernet ports to connect network segments. It not only transmits network data but also supplies power via an Ethernet network cable. Non-PoE switch, as the name suggests, there is no PoE in the switch to supply electrical power for end-users over Ethernet.
PoE/non-PoE switches that feature an industrial-grade design that can provide resistance to moisture, dust, dirt, oil, or other foreign substances that might otherwise damage the equipment are called industrial PoE switches or non-PoE switches. The high-capacity PoE budget of an industrial PoE switch can be leveraged to deploy and power nearby substation field equipment including IP surveillance cameras and valve controls.
Note: An industrial PoE switch can also be divided into managed industrial PoE switch and unmanaged industrial PoE switch.
Din-rail Switch / Rackmount Switch / Wall-mount Switch
Industrial Ethernet switches support different mounting types and can be installed exactly where you need them, whether on a standard DIN rail (a widely used standard metal rail used to mount control equipment in industrial networking solutions), in the control cabinet, or outside the control cabinet. Commonly seen industrial specialty switch models include DIN-rail switches, wall mount switches, and rackmount switches. These specially designed switches can provide flexible mounting options for easy installation, which is ideal for efficient use of cabinet space in harsh environments.
Summary
Nowadays, industrial switches are effective building blocks for corporate and manufacturing or industrial networks worldwide. Using highly durable housings and a compact footprint, industrial Ethernet switches are designed to fit in confined spaces and operate in harsh environments as we have explained in above contents. Hope this article can give you a better understanding of industrial switches and why they are widely used in today's industrial fields.
Source: community.fs