interconnectivity in the harshest environments
Ensuring uninterrupted connectivity in the harshest environments is quite a challenge, requiring durable, environmentally-sealed connectors capable of withstanding even the most severe conditions.
To meet this demand, Bulgin developed the Buccaneer range of dust and waterproof connectors for power and data. These circular connectors are suitable for external or internal environments, and are ideal for applications where ingress of dust and water must be avoided and where ease of connection, space and appearance are important considerations.
The Power Buccaneer range – comprising the miniature 4000 Series, 400 Series, Mini, 6000 Series, Standard Series, 7000 Series and the 900 Series connectors – offers a choice of screw terminations for simple 'field' connection, or crimp terminations for fast, effective volume connections, with flex cable, in-line flex cable and panel mounting connector options.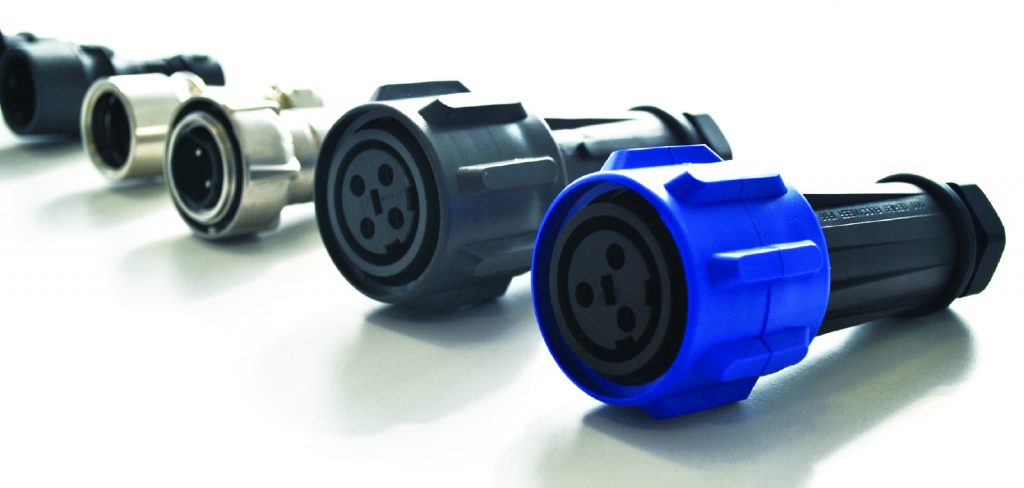 Complementing these connectors is the Data Buccaneer range, designed specifically for Ethernet, USB, Mini USB, Micro-USB and SMB applications.  Both Power and Data Buccaneer ranges contain connectors with IP66, IP68 and IP69K ratings and hold numerous international approvals.  This article discusses the most recent addition to the Buccaneer range, the 7000 Series of compact, environmentally-sealed 25A, 600V connectors, designed to meet the demand for larger diameter, higher power couplings.
Safe and secure connectivity
Water and dustproofing are important considerations when using electrical equipment. Besides the obvious hazard associated with water, salt water and dust, particularly cement dust, can erode contacts fairly rapidly, quickly rendering an unprotected connector useless. Traditional screw coupling waterproof connectors, while very effective, take time to couple. It can also be difficult to determine how tight the connections need to be to ensure they seal effectively. By contrast, the Buccaneer 7000 Series of compact and easy-to-use quick coupling connectors features a unique tri-start thread, twist locking system with positive feedback; ideal for 'blind' or awkward mating situations. This enables a water and dustproof seal to be made quickly and easily in less than a quarter of a turn without the need for technical expertise, reducing the potential for operator error.
An extensive range of applications
Connectors play an essential role in an incredibly diverse range of applications. With interest in renewable energy continually growing, one potential application for easy-to-assemble, 'fit and forget' connectors is solar technology. Solar inverters are connected to solar panels via single pole connectors, and high power output connectors are required to carry the mains voltage back to the grid. The Buccaneer 7000 Series is ideally suited to this application, offering safe, secure connection in a compact unit capable of withstanding long-term outdoor exposure.
Robustness is vital for industrial automation purposes – where constant power distribution and process control are essential – as well as for large weighing equipment and transportation applications, such as the specialist vehicles used to inspect rail tracks. Connectors used for these applications must withstand considerable stress, and durability is a prerequisite to avoid unplanned downtime. Rugged, rapid-locking connectors with positive feedback achieve a perfect 'fit and forget' seal every time, without the need for technical expertise or specialist tools.
For many applications, waterproof connectors are a key requirement. Temporary lighting and sound systems at concert venues rely on durable, waterproof connectors capable of accommodating large cables to provide a secure, stable power supply. These connectors are also ideal for water features such as fountains, offering a secure mains interface for pumps and underwater lighting. For marine applications – typically winches and lighting equipment – connectors must be both waterproof and resistant to salt water corrosion, and the use of plastic, rather than metal, connectors can be beneficial.
A rugged and versatile solution
Designed to withstand the harshest conditions, the durable Buccaneer 7000 Series connectors have a single piece body and meet IP66, IP68 and IP69K standards, making them suitable for a diverse range of different applications and environments, as well as allowing for changes in customer specifications. With body mouldings and pin carriers designed to create a robust interface while preventing damage during coupling, a correctly sealed connection is guaranteed even where access is restricted, giving engineers and product design professionals increased flexibility for a broad range of applications.
Interchangeable plastic and metal connectors are available, enabling an extensive range of different applications to be accommodated. Light weight, versatile and cost-effective plastic couplings are less prone to the risk of moisture accumulating within the connector and more resistant to attack by salt water, as well as UV-stable, making them ideal for long-term use in outdoor applications. In addition, these UL94 V-0 rated self-extinguishing connectors are halogen-free, ensuring that, in the event of fire, no toxic gases are emitted.
Where a more robust and rugged material or electromagnetic compatibility are required, metal connectors are more suitable, providing continuation of the cable screen from the cable through to the mating connector and completing the Faraday cage. For maximum flexibility, metal and plastic can be interchanged. Customers needing protection from electromagnetic interference may choose to combine a metal connector with the corresponding plastic mating connector, reducing the cost as much as possible. Equally, for some applications a plastic connector may be the ideal solution, yet the cable mounting half of this interface may need the additional strength of a robust metal connector to ensure it is not damaged in use.
Conclusions
In any industry, reliability is a crucial consideration, since failure of a single connection may result in a lengthy period of downtime and significant revenue losses while the fault is diagnosed. The larger diameter, higher power Buccaneer 7000 Series connectors enable a water and dustproof seal to be made quickly and easily, allowing rapid installation, replacement and maintenance of equipment without the need for specialist tools or expertise. With rigorous IP66, IP68 and IP69K rated ingress protection, the connectors are suitable for almost any application. This provides customers with total confidence in the quality and reliability of their chosen products, which have been developed using tried and trusted design techniques and knowledge acquired over many years to guarantee trouble free, 'fit and forget' connectivity in the harshest of environments.
Source: community.element14