What are Fixed Rails
Fixed rails are easily described as non-sliding rails or telescoping rails. These rails are used as an alternative to sliding rails, which can be too large to fit within a server rack. Fixed server rack rails is a catch-all type of product, so if nothing else works, then these rails will provide the solution.
What is a Server Rack Rail?
Server rack rails are specifically used to mount equipment and rack accessories within a 2 post or 4 post server rack. Rack rails can be specifically designed for the rack or equipment that you are using, so you can select a rail kit that best fits your needs. Since two rails are typically required to mount your equipment, server rack rails will come in pairs. Rack rails feature robust construction and are usually made from steel or aluminum.
Types of Rack Rails: Fixed Rails vs Sliding Rails 
Sliding Rails 
Sliding or telescoping rails feature a sliding mechanism, which provides the functionality of a drawer. By using slide rails, the server can be pulled out of the rack and serviced without disconnecting all of the cables. For those who need to immediately service their equipment, sliding rails are more beneficial compared to fixed rails.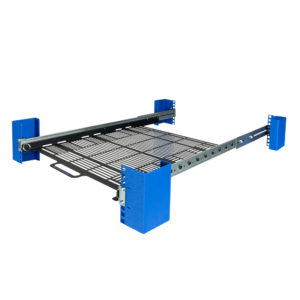 Fixed Rails 
However, slide rails don't exactly fit inside of the rack as easily as you would think. In these circumstances, your ideal solution is to use a fixed rail (also known as Static Rails) instead. Fixed rails are a long L-shaped bracket that help to support the edge of your equipment. These rails may include a cabling crossbar to dress any cables that are present in your server rack. For server racks with fixed rail kits, this means that the rails will firmly fix the server to the rack in a set position. To perform maintenance, fixed rails do require you to fully remove the server and equipment from the server rack.
Universal Server Rack Rails 
As a way to avoid the ongoing expense of repurchasing rail kits, universal rails are also used to support a variety of equipment. Our universal server rails are designed as an alternative for the standard issued OEM rails by HP, IBM, Dell, and other leading OEM server manufacturers. The universal rack mount rails are a fixed rail type and provide a flexible solution for incompatible rack rails within 19" server racks.
Furthermore, the universal rails are not limited to 19" racks. Depending on your needs, these rails can be attached to racks that are wider or narrower. We offer 1U, 2U, or 3U universal server rails. Our server mounted rails are designed to support a variety of server racks, including those with square, round, and threaded holes.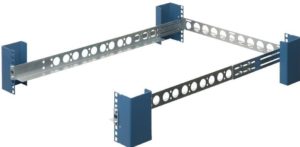 Cost-Effective Rail Kit Solution
Fixed rail kits provide a cost-effective solution since they are generally less expensive. For large data centers or businesses that require a large amount of rack rails, fixed rails will provide a significant amount of savings compared to sliding rail kits.
Do You Need a Custom Rail Kit? 
RackSolutions is always prepared to create custom products for your specific needs. We can design solutions and immediately send out prototypes. Our rail kits are designed in house and are custom made to last. If you need a custom rack rail kit, then we can make it happen.
Source: racksolutions